Beekeeping has a high priority for CFN. We have had a lot of struggle to keep the bees from abandoning the hives, which at times does still happen. We started the initiative in Tujereng forest. The caretakers found it difficult to assess and prevent problems. The forest is so alive!
Monkeys destroy lots in seconds, in search of water, army ants on various occasions, ate our honeycombs and bees alive, children throwing stones at the hives to try and steel honey, only to find that the hives where chained, nevertheless damage done. One of the two trained beekeepers develop a tremendous fear for the bees, after years, thus disabling him to help manage the hives.
At Mariamakunda the caretakers had less training but more success, the land eventually was fenced, the monkeys can drink from the solar water system as do the bees themselves. A low dense forest area has been preserved for them, flowers ( nectar) can be found at easy to reach height for the bees. The variety of natural forest flowers  is large. Aloe Vera flowers are many, Moringa Oleifera flowers too, it's a true party zone for them.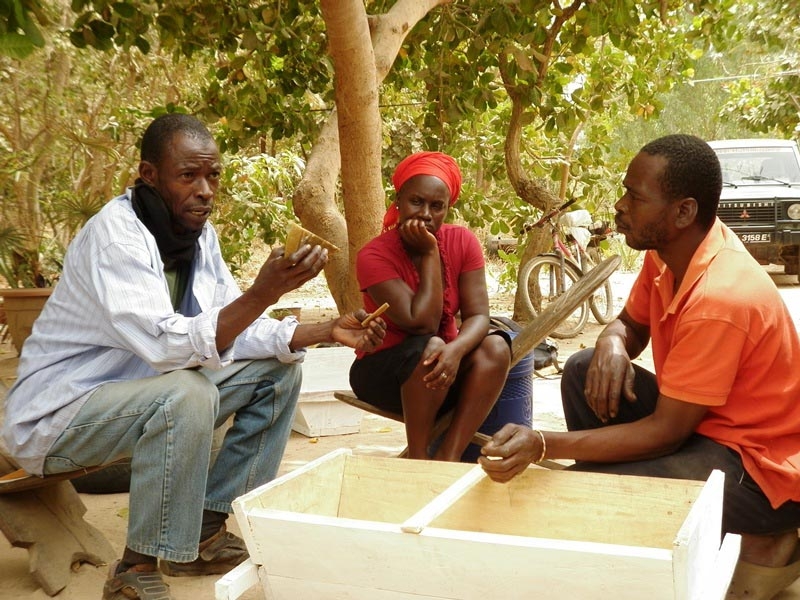 On this location several bee hives are being maintained and by our local staff. Workshops are organized in which people learn the right and most efficient way to keep bees. Among others the expertise of the 'Africa BEECause' organization is being contracted to provide workshops.
Presently our boys are doing the beekeeping. It's somehow "not done"for women (yet) . We are slowly working towards the ladies to give it a try. We presently ( 2019) have 25 hives of which some not yet colonized. We wish to expand in a matter of years to 100 hives. The Pigeon pea tree's flowers provide even more food for the bees and we are in the process to plant 1250 of them. Moringa will be expanded as well, providing a bee heaven. We can use more expertise and will seek to expand on accommodation so that volunteers and experts can be on the ground for longer periods, coaching our people on the ground with practical and technical help.  
There is an important relation between the activities on the Miariama Kunda location and the bees. To underline the importance of beekeeping and the value of honey better, the trainers of the 'Africa BEECause' have taught our women in Mariama Kunda how to develop products from this by just using simple additional ingredients. We have beekeeping high on our priority list.
We continue to stimulate the women and get more and more of them actively involved.
Here again we are more than happy to show you our modest efforts to a better future. Our staff function as guides and are eager to show you what they are proud of having achieved. They will as well take you to Kololi where the honey is sold and some 60 other products are manufactured from Gambia's beautiful gifts of nature. The items are for sale. Profits go to up-keeping our projects.